Wedding Flowers Guide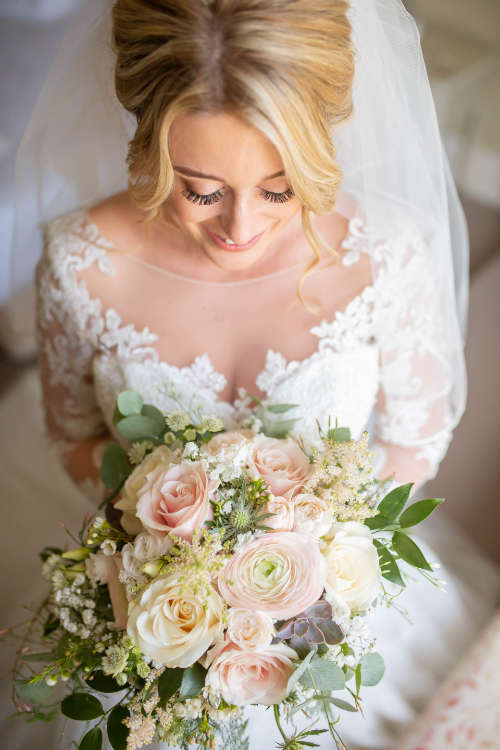 Your wedding flowers will be a huge part of your day, whether it be just flowers for the bride and bridal party, or flowers and decorations throughout the venue.
Your wedding flowers will enhance and set the theme for the day, so we would like to share some of our tips and advice to guide you through the process - from how to plan for your inititial consultation with us, to choosing the perfect blooms for your day.
Tips and Advice
- We would recommend that you book your consultation to see us for around six months to a year before your wedding, as we do get booked up quickly. If you come and see us at the same time of year as your wedding, it may give you chance to see what seasonal flowers are around at the time.
- Contact us in advance to book your consultation as we have a lot of couples to meet and obviously Saturday appointments are most popular and get filled quickly! We offer appointments for weekday and Saturday afternoons, so, if possible, try and have a few possible dates in mind when you get in touch with us.
- Feel free to email us any of your ideas before your consultation, for example, photos, colour samples, dresses, pictures of the wedding venue etc. This will help give us a head start to build a picture of the day you want to create, before we meet you.
- Try to limit the number of people you bring along to your meeting with us, not only do we have limited space, but often, having too many friends/family with you may lead to too many distractions and different opinions. We want your appointment to be stress free and an enjoyable part of your wedding preparations!
- Make a checklist of the flowers you require, this may include bouquets and buttonholes and flowers for the church, reception venue, tables, cake etc.
- Most couples have a budget for their wedding flowers so prioritise which flowers are most important to you for the day. We recommend to focus particularly on the flowers that will be most photographed, so we would advise not too scrimp on your bridal bouquet.
- When working with a budget, there are often ways to re-use flowers throughout the day and we can discuss deifferent ideas with you. Large arrangements can be moved to different areas and there may be an option for using flowers from your ceremony as your table centrepieces afterwards. If you have a lot of bridesmaids, a great idea is to have vases on the top table to display their bouquets in to save spending on other flowers.
- Bring lots of ideas to your meeting with us, whether this a scrapbook, pictures on your phone, or a pinterest board. You may want to have a list of flowers that you particularly like or dislike too. Having a colour palette or sample shades of your bridesmaids outfits is also helpful for us to be able to suggest which flower varieties will work best and for the time of year.
- After your consultation with us, we will put an estimate together for everything you are requiring and email it to you. We aim to get this to you as soon as we can but it can take up to a couple of weeks during particularly busy times. When booking with us, we take a deposit of £100 to hold the date, and then require the balance to be settled two weeks before your wedding.
- Once booked, we will stay in touch via email and phone and any alterations can be made to your estimate. You may want to book another appointment to come and meet with us again, nearer the time of your wedding to have a final catch up and confirm all the details. We would like your order confirmed two weeks before your wedding, to allow us to plan our flower list and place our order with suppliers.
- Take a look at the galleries of our work on our website and our featured weddings page. You can also get ideas from our Facebook, Instagram and Pinterest pages. We also exhibit at several wedding fairs and open days throughout the year. Don't worry if your knowledge of flowers isn't great, we are here to to guide you through the process and make choosing your wedding flowers one of the highlights of your planning!
Take a look at our flower meanings page to see some of the most popular wedding flowers and to discover what they represent.